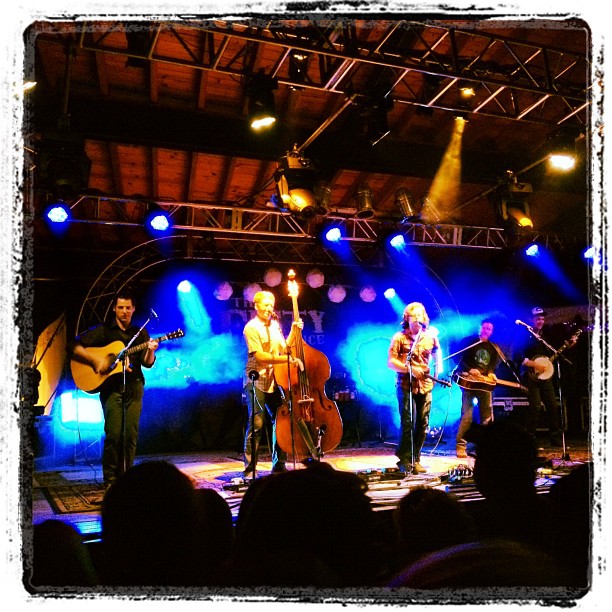 Our vibrant locale features lots of great music!
Live music enthusiast? Google Search no more. We've collected the live music schedules for you, and you may not have to go far to find the next big thing. The picture to the right is from a local festival, but our area features great local music all the time.
Bob Dylan may have penned the first version of the song, but "Wagon Wheel" has Rocktown influences. A portion of Old Crow Medicine Show started jamming together as middle schoolers right here in Harrisonburg. They've played at the Little Grill Collective.
and so have The Hackensaw Boys.
Venues
The Basement Lounge is a watering hole frequented by locals and located in the basement of Pano's restaurant, which is near the truck stop on I-81.
Blue Nile is an Ethiopian restaurant located in downtown Harrisonburg near Glen's Fair Price.
Byers Street Bistro, with their yummy American food, is located near the Staunton Amtrak and is Best of Virginia 2012 according to Virginia Living magazine.
Clementine Cafe is a casually elegant downtown Harrisonburg cafe located in the old Strand Theatre.
Corgan's Publick House is a cozy Irish pub located on Port Republic Road underneath 865 East.
Court Square Theatre was once the Rockingham Motor Company but has since been renovated as part of downtown Harrisonburg's Revitalization efforts.
Little Grill Collective is a veggie/vegan friendly, hippy attracting, locally-grown-and-funded hole in the wall with great freakin' pancakes! And it's located on the north end of downtown Harrisonburg along Route 11.
Local Chop and Grill House is an upscale farm-to-table restaurant on the northern outskirts of downtown Harrisonburg.